Hyperbook online store refreshed!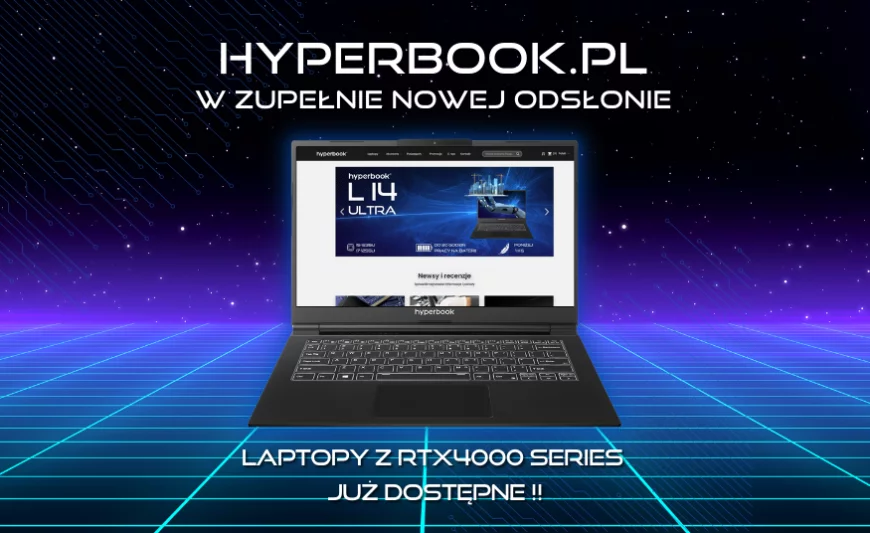 On February 23rd, we launched our new online store. It is based on a newer version of the engine and a more powerful server, which makes it even more efficient than our previous sales platform. When creating this version of the store, we made sure that using it is simple, intuitive, and enjoyable regardless of the device on which you browse our store.
Of course, in addition to the store itself, the product offering has also been refreshed. It now includes new laptops based on 13th generation Intel processors and NVIDIA RTX 4000 graphics cards. In the Hyperbook store, you can now also find accessories compatible with our laptops, such as mice, headphones, and pads. We are also working on expanding the range of replacement parts for our laptops, such as batteries, power supplies, and keyboards. These products will appear in the offer soon.
Unfortunately, we were not able to transfer everything from the previous store. Due to the specific nature of our products, as well as changes related to the structure of the database in the newer store engine, we could not transfer user accounts along with the history of orders placed. Thinking of those of you who will need access to your previous user account, we have kept the previous version of the store along with all information. It is available at the following address: https://www.hyperbook.pro/sklep/pl/ and will remain at your disposal for the next few months.
We are also currently working on a new driver download system for our laptops. It will be ready and available within the next few days. In the meantime, those of you who need to download drivers from our server can do so using the following address: https://www.hyperbook.pro/sklep/support.
If you notice any irregularities in the operation of the store, please report them by email to info@hyperbook.pl or through the contact form, choosing the topic of conversation "Webshop"