Laptop for a photographer - how to choose the right one?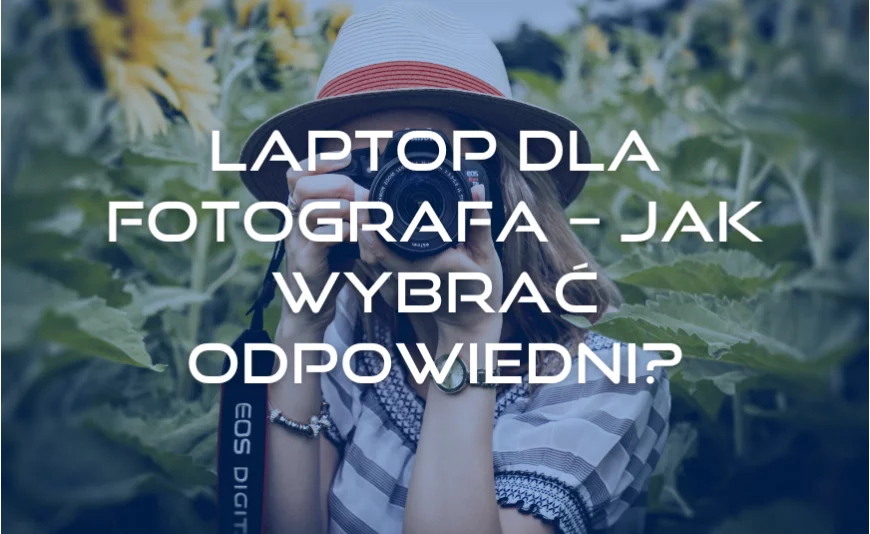 Laptop for a photographer - how to choose the right one?
Photographers, due to the specificity of their profession, need high-quality equipment that they use every day for earning purposes. The situation is no different with regard to the laptop. After all, a photographer is not only a high-quality camera, but also equipment that will allow for effective and aesthetic photo processing. The laptop is not only a photographer's business card, but also one of the main tools that he uses. Without it, effective processing of photos and their distribution directly to the client would be impossible. Therefore, it is worth paying attention to choosing the right equipment, bearing in mind that it is not a purchase for a moment, but equipment that should serve us for many years.
A laptop for a photographer should above all be efficient, because it must allow for quick processing of photos, even large ones. When choosing the right hardware, it is worth paying attention to such a component as the processor, the more efficient the better. Another important aspect is RAM. The optimal solution for the photographer should be characterized by the largest possible size of this memory. Here it is also worth paying attention to the type of hard drive and choosing an SSD solution, which is much more efficient than the classic HDD options. High-quality components and the quality of workmanship of the equipment have a significant impact on its performance. Only such equipment will allow photographers to work effectively in all conditions and quickly process photos even with the use of very demanding software that burdens the components. That is why it is so important to pay attention to the basic parameters and power of the equipment. After all, a laptop for a photographer and photo processing are inseparable elements. Equipment and software for processing are the basic tools, apart from the camera, of a professional photographer's work.
Computer equipment is also a business card of every photographer. The work of a photographer is very specific, which is why it requires appropriate protection. There are also shorter or longer business trips, in which there is no time to delay photo processing and many times you have to act on a living organism. Here, such parameters of the laptop as its appearance and weight are very important. The notebook used by this target group should not only be very efficient in terms of components, but also elegant and stylish. It is worth paying attention to the overall appearance, compactness of the solution and sizes that will allow you to easily move around with a laptop and edit photos on an ongoing basis. Weight is also important here, and we will appreciate the importance of this fact only when we have to move dynamically with the equipment. A light notebook will not burden our spine and, above all, it will not tire us.
A good laptop for a photographer is also a large and easy-to-read screen. This solution has several advantages that are worth noting. The first is the size of the image we are processing. The larger the screen size, the easier it is for us to navigate the photo processing tools and perform our daily work, because the work of a photographer is not only processing, but also the distribution of photos and obtaining new orders. Many times, photographers also have to present the results of their work to the direct stakeholders. The presentation of photos on a large and clear notebook screen looks much more professional than on a limited-size smartphone or computer equipment of dubious quality and parameters. The large screen and good display parameters make the work of every photographer easier and more professional.
What laptop for a photographer?
So what equipment should photographers ultimately choose? In fact, the selection of the optimal laptop should consist of a combination of the above-mentioned features and what is most important, i.e. the individual experience and preferences of each user. It is worth remembering that when choosing a laptop for the work of a photographer, you choose equipment that should serve you efficiently for many years and, above all, make you happy, so it is worth taking care of the maximum adjustment to your own needs - and Hyperbook laptops allow this. According to the rankings and lists of laptops for photographers in 2022, attention was also paid to additional functionalities such as a convenient and efficient card reader. Of course, this is one of the basic functions, because the speed of work is another distinguishing feature of a professional. Efficient slot for cards and memory readers allows you to directly download photos directly from the camera during the session. Another important aspect is the length of the laptop's operation without a power source. Photographs, combine all these aspects and choose the optimal laptop for you, which will allow you to enter an even higher business level.
What to consider when choosing a laptop for a photographer:
1. Screen: It's important that your laptop has a high-resolution screen with good viewing angles so that photos display correctly and with accurate colors.
2. Processor: A good quality processor is essential for processing large graphic files.
3. RAM: The more RAM, the better, as it speeds up photo processing and editing.
4. Hard Drive: It's important for a photographer to have plenty of hard drive space, including the ability to store RAW images.
5. Graphics Card: Photographers who do graphic editing or animation should choose a laptop with a dedicated graphics card.
6. Weight and portability: Photographers often travel with a laptop, so choose a device that is lightweight and easy to carry.

Ultimately, the best laptop for a photographer will be one that meets their individual needs and allows them to efficient work without any restrictions.